Back in the 1960s, amongst the Young & Rubicam outdoor commuter-station posters urging you to advertise in TIME magazine (because TIME is where Beefeater Gin makes its martinis marteenier—or something like that), you'd also see ads that were garmento-related, selling synthetic fabrics.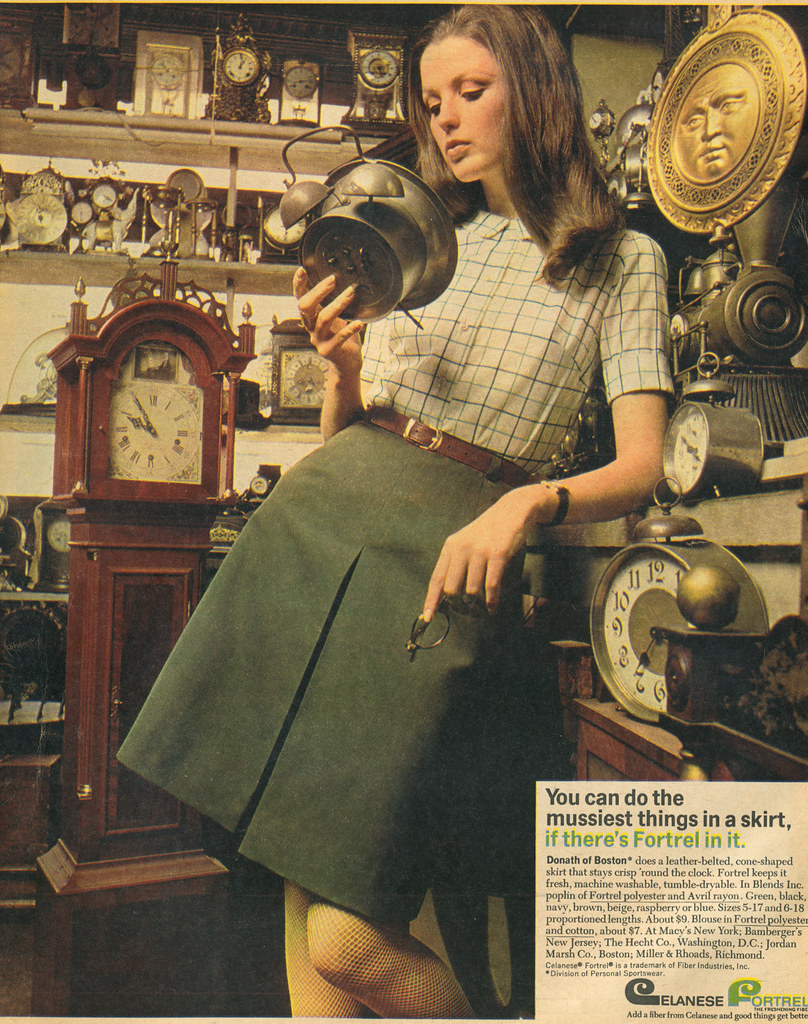 I should add that these train-station ads from TDI outdoor advertising were mainly around suburban New York City. I never saw anything like them farther away than Philadelphia.
But back to the synthetic fabrics. The two brands I remember best were Celanese Fortrel, a kind of non-wrinking, drip-dry polyester used for dresses and men's trousers and everything else; and Klopman, another no-iron brand that you were urged to "lean on." You'd see a picture of a businessman in his casual golf-day duds, or a young girl . . . or maybe an old girl . . . and they would be pictured standing straight and tall, and then leaning against a nonexistent wall.
Lean on Klopman. Surrealistic, eye-catching, but maybe not quite on point.
MAD magazine once ran a house subscription ad that went: "Why lean on Klopman? (Or any other newsdealer for that matter?)" The joke must have been incomprehensible to most people who weren't at least 35 years old, prone to commuting to Grand Central from Westport or Bronxville or some such; or perhaps somehow connected to the schmatte business or Women's Wear Daily. But that's how MAD was, you know.

Who Klopman was exactly, I was never curious enough to find out. Celanese however has been a brand name for  unrelated companies in Great Britain, America, and Australia for the past century. The fabrics from these companies weren't/aren't the same, so far as I can tell. And none of those commercial concerns had anything to do with Ceylon (or Sri Lanka, as that tropical island presently styles itself).
The first Celanese company, in England, marketed a sort of imitation silk, which possibly accounted for the name. Ceylon—silk; Celanese—fake silk. It's not a name you can trademark, of course, just as you couldn't trademark the Burma in Burma-Shave or the Turkish in Bonomo Turkish Taffy.
Around 1967-68, the American Celanese company had a tagline to push its main stock in trade, summer dresses: Summer's a breeze with Celanese.
The synthetic industry was riding high in the 1960s, but it always faced a barrier of sales resistance in the form of snobbish preference for "natural fabrics." A few years later, when the designer Halston was hawking his lines of apparel on TV, he'd proclaim that they were "made from trees," which meant they were made of something like rayon, a synthetic made from wood-pulp cellulose.
By the mid-70s synthetics were widely regarded as a joke, best employed in the manufacture of soft luggage, parachutes, and those odd ensembles called "doubleknit leisure suits."
Traditional, natural, fabrics seldom found their way to outdoor advertising. No, they took up big display ads in the New York Times, Vogue, Harper's Bazaar, Town & Country, and Seventeen. Off-the-peg clothing lines for young women usually had stuffy names suggesting small towns in Lichfield County, Connecticut: John Meyer of Norwich, The Villager Collection. If they ever used anything like Celanese Fortrel polyester, they certainly didn't mention it in their ad copy.
ERRATUM: The original version of this article referred to fibers made from wood-pulp cellulose as Dacron. DuPont's Dacron is a pure synthetic. Rayon, or viscose, is the cellulose fabric.
Author:
Meg Burns
Mrs. Burns's work has appeared in Food & Wine, The Spectator, The Oldie, the San Diego Reader, and other places like that.