For years I shunned polo shirts because the standard cotton-piqué type (Lacoste, 1970s) was always just a little bit too heavy, and the cut of the women's style was somehow too restrictive. (Something to do with the armholes, you know.) Of course you could always buy a larger size, but that was like wearing a men's: baggy, totally unbecoming.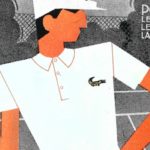 And the good ones were always so expensive. I remember how in the original novel Jaws the chief remembers how badly he wanted a Lacoste shirt, like the ones the summer people at Nantucket wore. But his mother sneered, called the Lacoste polo a "two-dollar shirt with a ten-dollar alligator," or something like that. I guess this was supposed to be back in the 40s or 50s, but it was pretty funny to read in the early 70s, when Lacostes already cost about $30.
The best-made polos I've seen these days are from Fred Perry. Their detailing is perfect and everyone looks good in them. Alas, they too are a bit heavy, and quite expensive (around $90 most places).
I think the theory is that they last forever, and soften up after many wears and washing, and after you've had them many years you don't care what you paid.
They are an investment, in other words, like a $200 Mason Pearson hairbrush that lasts a lifetime, provided you don't lose it. Myself, I've never dared "invest" in a Mason Pearson brush.
But I've found a new source for polo shirts, and it may surprise you. It's Vistaprint, the online company that makes you business cards and letterheads. Not only can they sell you a polo for about $25, they'll even embroider your insignia onto it.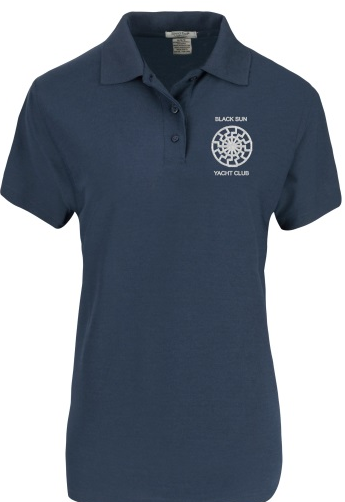 I toyed around with their site recently, inventing country clubs and yacht clubs with funny names. Finally I settled on a navy polo bearing a black-sun logo and the words BLACK SUN YACHT CLUB.
I'm told yachting shirts are almost never black, as they absorb the sun, but that just makes the whole thing funnier!
Really, take a look at this mockup: obviously it's not as detailed as a Fred Perry, with Fred's contrasty trim at collar and sleeves. But you do have the choice of many makes and fabrics, including some in dry-fit tech synthetics. And you can get the personalized shirt embroidered and shipped to you in a week or so, all for under $30.
What I really want though, now, is a sleeveless polo dress.
Author:
Meg Burns
Mrs. Burns's work has appeared in Food & Wine, The Spectator, The Oldie, the San Diego Reader, and other places like that.